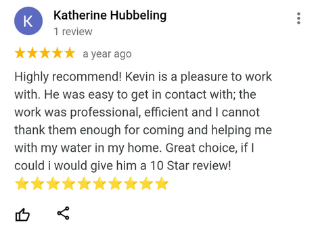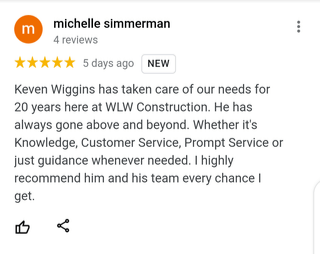 Brian Belter, Umatilla, FL
This is the longest testimonial I have ever written. Please read it in its entirety.
My wife, Tracy, and I moved to Umatilla 27 Jan 2022. Tracy was immediately concerned about a foul odor that emanated from our well water and she wanted it resolved ASAP. She was thinking about it, while she was driving home from work Friday the 28th, and happened to see Kevin Wiggins Water Treatment billboard; by some miracle, she remembered the phone number ((352) 267-9857).
I had never met Kevin before and had never heard of him at this point. Tracy told me he is a local business owner and had 40 years of experience dealing with water treatment in this area. Common sense kicked in and I knew he was the guy to call. I had already called a nationally franchised water filtration company, before calling Kevin, and they were scheduled to come out on Monday to do a free water test. I decided to wait on canceling that appointment; until, after I met Kevin and heard what he had to say.
Kevin came out to our property with his wife Hollie. They were super nice and very professional. We went to the well pump and Kevin turned on the spigot at the pump and as soon as the first drop of water exited the spigot, he knew what the deal was with the foul odor emanating from the well. Kevin explained what the issue was with the smelly water, it was a result of a bacteria that feeds on the iron in the well water; which causes the foul odor. Kevin explained how he has the same issue at his place and would put the same system that his family uses. Kevin gave me a better than fair estimate. I told him I would talk it over with Tracy and call him back with our decision. Tracy was at work during the estimate; so, I called her and explained to her what the estimate process entailed. She asked me if I had scheduled the job. I told her no, I wanted to talk to her about it. She told me to call and schedule it.
Kevin and Hollie are family-oriented people and both have hearts of gold. When they came out to do the estimate, we got to talking. Hollie asked me if I was from Alabama; because, of the area code of my cell number. I am from Alabama, and it is pretty obvious in my accent. Somehow, we got to talking about my and Tracy's career history. I explained that I am retired military and that I am an acute myeloid leukemia survivor; which, is the number one reason Tracy was concerned about the water quality. They stopped everything and thanked me for my service. Genuinely thanked me like everyone else that has thanked me up until now.
I've been thanked for my service uncountable times and I think people are being genuine when they thank me. 99.9% of the people that thank me, do not know what my service experience entails or how long I served or how I served. Kevin and Hollie were genuinely interested in my service. I thought it was strange that a family-owned business had the owner and his wife come out to do the estimate and now they're asking me about my service in the military.
Thank you for reading this long testimonial, this is the closing paragraph. Today was the install day of the water treatment system. My water is 100% better now. I am 100% satisfied with what Kevin did with the filtration/treatment system. I have to tell you that I am still in shock with what He, Hollie and Paul Eisnor did for my family today. The system that they quoted me cost $4,100.00. That's a hell of a deal considering what other companies charge. That's why we scheduled them and to be honest, I really liked Kevin and Hollie, personally. They're great people, the kind you know right off when you start the first conversation with them and you just know… Anyway, Kevin and his associate Paul installed the system today. They explained to me the maintenance I needed to know as the owner/user of the equipment. I had the check in my shirt pocket so I could pay them for their quality work. Kevin was getting in his work truck after packing up all of their tools and equipment. I asked him how much I owed him. I knew the quote was $4,100; but, I wasn't sure if that included tax. Kevin handed me the manual for the system and the ticket. The contract price installed was $4,100.00 on the ticket. Under that was written "Donated system to customer" TOTAL -0-. I was in shock, my voice was shaky. I could not believe it. Kevin gave me a giant hug and told me that he really appreciates my service. I held back major crocodile tears. Tracy and I are eternally grateful for Kevin, Hollie, and Paul.
For the love of God, if you need water treatment/filtration give Kevin Wiggins Water Treatment a try. They are a Family with Quality in mind, fair prices, & total customer satisfaction.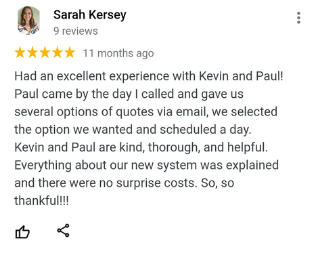 Mark Reno

After suffering with the effects of iron, sulphur and hardness from my well water, I decided to look into correcting the issues with water treatment equipment. My requirements in choosing a contractor included professionalism, quality of materials, meeting the desired results and trust. Kevin Wiggins Water Treatment thoroughly met all of the criteria. Kevin and Paul came out shortly after I called, tested the water, made a recommendation, and offered a proposal identifying the materials and service they would provide in order to rectify the issues I had. After agreeing on their proposal, we scheduled an installation date. Kevin and Paul were there on time and ready to complete the work. Upon completion, my wife and I noticed an immediate improvement in our water quality. I would recommend Kevin Wiggins Water Treatment to anyone who is experiencing problems with their water quality. I can assure you, you will be extremely pleased with the results! Thank you so much, Kevin and Paul, for taking such good care of us!!