Andrea and Tim Van Gels
Thank you for your work on our system at our home. I appreciate the professionalism and phenomenal job!! We so appreciate the promptness to get our system in and your communication is always a plus!! I appreciate that Paul walked me through our system step by step and gave us additional information. We highly recommend you all 💯!! Most of all I love a good family business!! Thank you again!!
Brian Belter
Moving to Umatilla, we were troubled by foul-smelling well water. Thankfully, we saw Kevin Wiggins Water Treatment's billboard and decided to call. Kevin and Hollie came out, and Kevin quickly identified the issue with our water. His expertise and fair estimate convinced us to proceed. During the installation, they showed genuine interest in my military service. The contract price installed was $4,100.00 on the ticket. Under that was written "Donated system to customer." I was in shock, my voice was shaky. I could not believe it. Kevin gave me a giant hug and told me that he really appreciates my service. I held back major crocodile tears. The water is now 100% better, and we couldn't be happier with their outstanding service. If you need water treatment, go with Kevin Wiggins Water Treatment—a family-oriented company with a focus on quality, fair prices, and exceptional customer satisfaction.
Dave Caplis
After a multi-year renovation, we were eager to have our water turned back on, but were troubled by a strong sulfur odor and unpleasant taste. We explored various solutions, but the prices and mixed reviews left us hesitant. Then we discovered Kevin Wiggins Water Treatment. Their team, Kevin and Paul, impressed us from the start with their knowledge and patience in explaining our options. Opting for their aeration solution and a new water softener proved to be the right decision. The installation was swift and tidy, and our water issues vanished – no more odor, great taste, and easier maintenance. Kevin and Paul's exceptional service and commitment to customer satisfaction have made all the difference. Thank you for providing us with impeccable support and enjoyable water!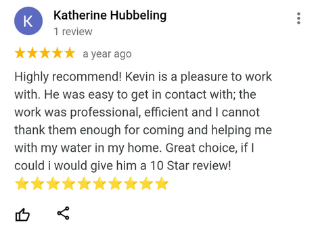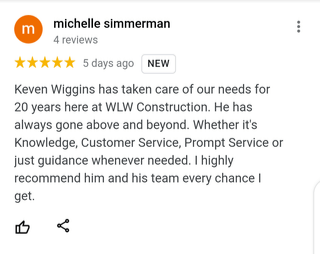 Mark Reno

After suffering with the effects of iron, sulphur and hardness from my well water, I decided to look into correcting the issues with water treatment equipment. My requirements in choosing a contractor included professionalism, quality of materials, meeting the desired results and trust. Kevin Wiggins Water Treatment thoroughly met all of the criteria. Kevin and Paul came out shortly after I called, tested the water, made a recommendation, and offered a proposal identifying the materials and service they would provide in order to rectify the issues I had. After agreeing on their proposal, we scheduled an installation date. Kevin and Paul were there on time and ready to complete the work. Upon completion, my wife and I noticed an immediate improvement in our water quality. I would recommend Kevin Wiggins Water Treatment to anyone who is experiencing problems with their water quality. I can assure you, you will be extremely pleased with the results! Thank you so much, Kevin and Paul, for taking such good care of us!!